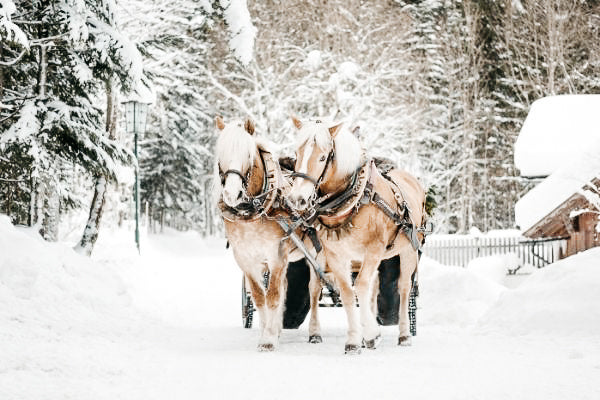 4 useful tips to make riding in winter more enjoyable
Regret doesn't help. Summertime is finally over, rides in the late evening are usually a thing of the past and the weather is forcing us to rethink our clothing choices. Of course, that doesn't necessarily improve your mood. But this much can be said: You can't change it because it's out of our control. There's only one thing left. Eyes shut and go for it.
Now our loyal horse partner isn't as much of a wimp as we are. The horse species is really happy about cooler temperatures. You've probably already noticed this anyway. The joy of running has miraculously returned to your horse and the exuberance can sometimes be clearly felt.
Let yourself be infected by your friend's positive mood and enjoy being together! There's nothing nicer than horses in the snow, right? If you follow a few of our tips, you can even give winter the cold shoulder.
Tip 1: Suitable riding clothing is the be-all and end-all
Whoever saves here has lost. In fact, we stay in the stable for several hours. If we don't have to complete a crap marathon or do strenuous training, we cool down very quickly. And if you start to feel cold, the only thing that helps is to warm up in the heated riding room. Hot cocoa and cookies are the last resort!
But what is the right riding clothing in winter? Thermal breeches, riding parka, wool socks and bobble hat?
The onion look is actually really effective. The more you move or The more you sweat, the easier it is for you to take off some of your clothing. Jackets with removable sleeves or multifunctional jackets (under jacket usually made of thick fleece and outer jacket made of waterproof and windproof material) have proven very useful here. Thermal breeches with climate regulation are certainly worth considering. However, you can also wear thermal leggings under more comfortable riding trousers. The effect is similar. Important: You should not be restricted in movement! Long riding socks or ski socks with warmly padded underfoot are ideal in winter.
In general, riding clothing can be complemented well with pieces from the ski and snowboard department. You can often find very useful items here, such as long ski underwear or helmet caps. The latter are definitely recommended for outdoor enthusiasts, as we know that most of our body heat dissipates through our heads. If you don't like it so much because of your long hair, you can use smart headbands or tube scarves (with cheeky motifs).
Gloves are strongly recommended. It also makes sense to take at least two different pairs into the stable. If you ride or lunge outside, lined gloves make sense. If you do work in the stable, thinner ones are sufficient. If your body is in constant movement, your blood circulation system regulates the heating anyway. So: get to work! This is the best prevention against chattering teeth!
As mentioned above, thermal socks are a good purchase. It's even better if you can also use thermal riding boots in icy temperatures. Whether as a Jodhpur or long shaft version - your feet will thank you. Especially when you move your horses in the snow. It's great that today's thermal boots are no longer so bulky. You can find elegant pieces even for dressage riders. Because: heated riding halls are not the norm.
By the way, it is a good idea to choose winter shoes one size larger. Ski socks, grandma's thick wool socks and your feet will have enough space. In an emergency, two pairs of onion-look socks or, better yet, a lambskin insert will work. This warms you wonderfully and prevents the smell of stinky feet if you start to sweat.
Tip 3: Targeted warm-up and covering up
A long warm-up phase is particularly useful in the cooler season. For your horse and for you, mind you! Joints, tendons and ligaments take significantly longer to reach operating temperature. Warm riding clothing, thermal riding boots or a sweat blanket placed on the horse are not sufficient as a warm-up program.
The following applies: move, move, move! In any case, it makes sense if you walk your sweetheart at a brisk pace for the first quarter of an hour. This way you both will warm up.
If your stable has a horse solarium, you can treat your horse to deep heat for 10 - 15 minutes before work. If you have had to shear your horse (heavy sweating due to winter fur), he will really enjoy the extra portion of warmth. But don't forget that although the neck and back areas are warmed, the joints are still at least. Require 15 minutes of step program to be "ready for use".
After training, it is important to put on a sweat blanket. It absorbs sweat and protects against drafts. Please don't give up dry riding! If your ungulate is a heavy sweater and your training is very intensive, it actually makes sense to shear the horse.
Then a winter blanket for your horse is a must! It replaces the winter fur and must provide protection from cold and icy winds. A sweat blanket alone would not be enough here. The lack of winter fur allows moisture and cold temperatures to reach their sensitive skin. A winter blanket gives the horse some protection.
Robust open stable horses should retain their natural winter coat. The healthy organism of these animals controls their winter protection all by themselves.
Tip 4: Interesting winter gadgets
So that you, as a living chilblain, don't have to constantly stand under the horse solarium, clever people have come up with something. This means that even the most frozen of the frozen can be helped.
There is e.g. b small pocket and toe warmers that can be activated by bending a metal plate. Quite cheap and can be used again by boiling. Or how about battery-operated thermal insoles and gloves. Significantly more expensive but effective.
Earbags are interesting for cold ears. Similar to earmuffs, but without the annoying strap. Here only a small folding mechanism is activated. Are in different Sizes available and are not as bulky as the old "Mickey Mouse ear plugs". Riding clothing with integrated ceramic fibers (neck and kidney warmers, etc.) is great.) These reflect the body's own heat back. Is there also for the hottie (e.g. b back warmer). Ideal for warming up!
So you don't have to wrap yourself up in the horse's winter blanket. There are other great options. Make your winter beautiful! Be an ice princess and our tips for riding in winter will help you! Your big partner is looking forward to seeing you even in winter!