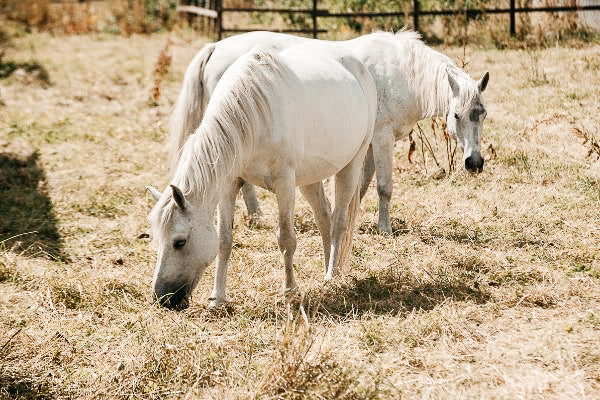 The Connemara Pony – powerful personalities conquer hearts
You have to look twice here - the chic Connemara actually has a great resemblance to the fiery horses of Spain. That's why the nice full-size pony is often called the "Little Andalusian". That is not by accident. You will be amazed because there are many informative details to discover about this breed.
The historical origins contain interesting evidence of a wide variety of matings.
In any case, the result was a riding pony that is impressive and is highly valued by many due to its outstanding characteristics.
The pretty Connemara Pony originated from the primitive ponies from the islands belonging to England. As with many other horse breeds, the ancestors were frugal, cold-resistant and robust animals. So a Nordic type of horse.
With the initial migrations of humanity, ca. The first Iberian horses came to these islands 6000 years ago. The network was later expanded further by Celts who settled in England and western Ireland. It wasn't just goods that were traded. Horses came and went. So more and more Iberian blood came to Ireland and also into horse breeding.
Even thoroughbreds still had an influence on breeding.
This constant change produced a pony that was different from the other horse breeds of England and even all of Northern Europe. The Connemara pony with "pious fire" as Connemara breeders lovingly say was created.
The noble riding pony gets its name from its area of ​​origin near the Connemara National Park. This lies west of Loughs Corrib and Mask. It borders Galway Bay in the southern part and the Atlantic Ocean in the west. A wild land with moors, lakes and mountains and rather hard grass. The Connemara fed on this sparse crop and developed into a tough little horse with an agile, healthy body and alert character.
The Connemara Pony was strongly influenced by the stallions Golden Glam and Rebel.
However, the exceptional stallion Cannon Ball from a local mare (Dynamite) was the first to be included in the studbook. The Irish traditional wake was even held in his honor on the anniversary of his death. He was only buried in his pasture at dawn.
Later it was thoroughbreds, Welsh and Irish draft stallions that influenced the further breeding results.
In 1923 the Connemara Pony Breeders' Society (the English breed association) was founded. In 1963 the stud book was closed and only select animals with registered ancestors were included in the paper.
The first ponies "discovered" Germany in the sixties. Other breeding associations can now be found in the USA, Australia, Sweden, Denmark, Holland and France.
It is very clear that this is a stocky and solidly built pony. As explained above, the beautiful leisure pony has a strong resemblance to the popular, graceful Iberians.
The horse, standing in a rectangular format, has a medium-sized head with large, expressive eyes. Ears that match the head and goosenecks that are ideal for bridling lead to a neck that is quite long for a pony, well muscled and beautifully curved. Long, strong shoulders, a strong back and a well-proportioned croup also demonstrate a harmonious topline shape.
Well-positioned hocks and a full hindquarters provide thrust and enormous jumping power. Hard joints on the legs, a stable tube circumference of 18 - 21 cm and very good hooves round off the whole power package. In terms of size, the Irish pony is considered a final size pony with a height of up to 1.47 cm. Thanks to this size and the solid cane legs, lighter adults and children can enjoy the ride.
The mane and tail are thick and have beautiful growth. The coat colors are mainly gray, black and brown. Occasionally there are roaches and foxes. Today, popular trendy coat colors (due to the cream gene present) are lightened tones such as duns, Isabell and crèmellos.
The Connemara Pony seeks closeness to people, is courageous, light-footed and full of energy. The animal, which is nevertheless calm and has a strong character, is pleasant to handle and proves to be a great leisure partner for the whole family. An extremely stylish full-size pony with which mother and daughter can equally experience the joys of equestrian sport.
The noble horse also has excellent jumping ability and remarkable sure-footedness. Overall, it is predestined for more sophisticated tasks in the jumping course, in the dressage arena, on uneven terrain outside, during therapy or even in front of the carriage.
Clearly a versatile leisure pony with upward potential and truly a finished pony with chic and charm.
With so many positive features, you really get excited about this compact, pretty movement miracle, right? In any case, it is one of the all-rounders among horse breeds that not only impress with its beautiful coat colors.
The friendly pony doesn't make any great demands. On the contrary, it is frugal and ideal for social open stables with lots of contact with nature, wind and weather. As with many small horses, it is important to feed them appropriately for their type. Too much "agricultural" pasture or too rich feed can harm the animals. If you consider their origins, you can quickly see why. Anyone who takes this to heart will have a reliable, long-lasting partner at their side in the Irish handsome boy.
Animalons brush recommendation for the Connemara Pony:
We recommend our Care Flex root brush with natural bristles for this robust horse breed. This will even turn your outdoor piggy into a handsome horse again.
Our natural bristle hoof brush is also an absolute must-have in your grooming kit as a Connemara pony owner. Not only does it ensure a clean hoof with its natural bristles, it is also a real secret weapon against stupid dung stains. So exactly the right thing for this "mold-heavy" horse breed.