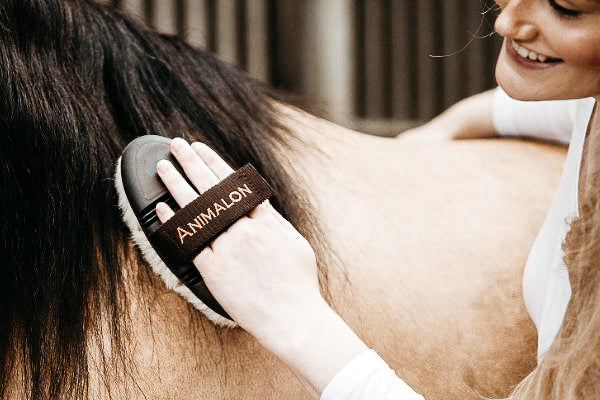 Animalon brushes
Nice to welcome you to our website. Here you can find out everything about the popular brushes from Animalon. We are the brush start-up from the Lower Rhine. Our goal is to make daily horse care a feel-good experience.
Animalon
Because your horse is special.
Our CareFlex brushes
Our Animalon brushes are flexible and stable at the same time. Thanks to their ergonomic shape, the brushes nestle ideally on almost any part of the horse's body. With the Animalon brushes you ensure maximum contact surface and efficient brushing/curing. Even hard-to-reach areas such as pasterns, chest, stomach and withers can be easily and effortlessly reached and thoroughly cleaned with the Animalon brush.
What makes our brushes so special?
INNOVATIVE - the bend of up to 90° offers the Animalon brushes the highest level of comfort for easy and gentle care of almost all parts of the horse's body
GENTLE ON WRISTS - the natural shape and a tight fit prevent annoying cramping and twisting of the hand
ADJUSTABLE HAND STRAP - integrated into the material prevents annoying tearing and the Velcro fastener offers infinite adjustability.
Animalon Brushes
With the brushes from Animalon, grooming is redefined. Whether you just want to cuddle or brush vigorously – our range covers it all.
In today's equestrian sports, the saddle plays an enormously important role for horse and rider. The selection of horse saddles is incredibly large - whether dressage saddles or jumping saddle...
Continue reading