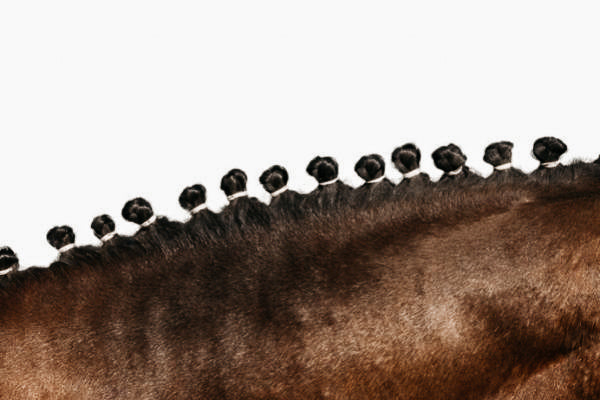 Animalon's tournament tips for good success in the tournament season
You are happy because you will take part in a tournament with your horse. But alongside the anticipation there are also doubts.
Hopefully I'll think of everything. What do I have to take with me? Is the management working?
Especially if you don't have that much experience yet, it makes sense to think about it early. And yes, preparation is everything here. You will save yourself a lot of stress if you prepare for the tournament early on. To prevent this, it makes sense to come up with a plan.
For your orientation, we have a few tips that can certainly be of some help to you. After all, you both should be able to enjoy "the spotlight."
Horse care shortly before the riding tournament
Of course you want a cleanly groomed horse on tournament day. Of course, because appearance often influences the judges' assessment. It means showing your horse from its best side.
Tip 1:
It is best to wash your horse 2-3 days before the riding tournament. Why? Because if you washed it right before, the sebum that gives the fur its natural shine would be washed away. On the tournament field, you can use a little coat shine spray to help it look good. But be careful: Do not spray the saddle area, otherwise you and the saddle will experience a wonderful slide!
Tip 2:
The same applies to the mane and tail. The spray helps you detangle and allows the tail to swing visibly loosely and shine. If you brush your hair by hand the day before, it will be easier to comb on tournament day.
Tip 3:
If your competition horse has a very thick mane, you could thin it out with thinning scissors. However, if you want to preserve your animal's natural hair, which is undoubtedly more true to nature, then you still have the option of braiding it nicely. If you decide to have a sewn-in tournament braid, you should do this the evening before. That takes time.
Tip 4:
Get a Sleezy (Western equipment). The very thin, stretchy material protects your head, mane, chest and neck from dirt. There are even sleezy blankets. They make it easier for you to care for your horse shortly before the riding tournament.
Leather care for the tournament
Tip 1:
It's best to clean and grease your tack 1-2 days beforehand. On the day of the event, you can then rework it if necessary using inexpensive leather care cloths (drugstore). When caring for the leather, make sure to leave out the seat and stirrup leathers. That wouldn't be good for your white breeches.
Tip 2:
Check all saddle and bridle straps for suitability and adjust the stirrups to your length the day before. Don't forget to clean your riding boots! The wipes in your luggage are great for a quick finish.
Horse trailer - transport must be organized!
Tip 1:
A careful inspection of the horse trailer is mandatory! This means that everything from tires to lights, floor, ramp and safety hooks must be examined closely. Check ok - then hang up a filled hay net for nibbling.
Tip 2:
As a competition horse, your treasure is usually used to being loaded. If not, practice the days before. Patience, no punishment, lots of praise!
Important: Even during practice loading, there should always be a towing vehicle in front of the trailer!
Tip 3:
Load the car or the small tack room in the trailer early. Proceed systematically and tick things off.
You can download our Animalon checklist for the tournament at the bottom of the post!
Dear helpers are the be-all and end-all
Tournament idiots may sound negative, but without these hard-working girls and boys nothing would really run smoothly. If you have the opportunity to have your riding partner, a friend, your family or nice acquaintances help you, that's great.
Whether on the warm-up arena, when caring for the horses, when loading or simply as emotional support and to keep your fingers crossed - "tournament idiots" are simply worth their weight in gold.
Let's be honest, it's great if you can go through your test again while someone else is warming up your competition horse on the warm-up arena, right?
Tip 1:
Read the tournament schedule several times and copy it for your companion. Two more eyes is never a bad thing! It is not uncommon for a start or important information to be missed.
Tip 2:
Write the head number on the plan to avoid confusion. Also insert the numbers correctly into the head number plate (check!) and attach them.
Health check before the riding tournament
In our eyes, this is actually the most important point. If you want to take part in a riding tournament, your four-legged partner has to be really 100% fit! Do you notice e.g. b days before that your horse e.g. b doesn't run smoothly, one leg is thicker, it coughs from time to time or its performance is declining - then stay at home, let your vet keep an eye on it and give your animal a little break from training! Please don't take any risks! After all, your competition horse should remain fit and healthy, right? And for the sake of the animal, you sometimes have to take a back seat. This is fair cooperation. Greetings from horsemanship!
Here you can find our Animalon tournament checklists for HORSE and RIDER: