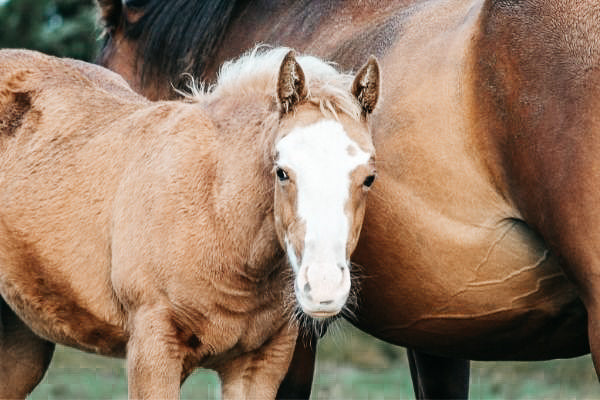 DIY horse treats – great recipes to imitate
We're not the only ones who like to snack on home-baked food. Horses also like the taste of rich cookies. So if you want to give your horse a special treat and also enjoy baking, then these recipes are certainly ideal for you. It doesn't take too many ingredients, just a little time and effort.
When making horse treats yourself, it is also practical that you can use ingredients that are very beneficial to your horse's health. You can find more interesting information about this in every horse treat recipe. Have fun and good luck!
Ingredients:
- 250 g oat flakes
- approx. 30 g sunflower seeds
- 1-2 tubers of beetroot
- hot water
- - - possibly. Disposable gloves & old bowl (red color!)
Preparation:
Grate the tubers, add the remaining ingredients and gradually mix with the water to form a nice, smooth dough. Form tightly pressed small balls. At 150 degrees approx. Bake on baking paper for about an hour. Allow to cool thoroughly!
Quick info:
Sunflower seeds contain many minerals, vitamins and unsaturated fatty acids. An all-rounder that, in combination with beetroot (high iron content and folic acid), gives your horse a health kick. Making horse treats yourself makes perfect sense.
Oat cookies with birch leaves
You need:
- 150 g oat flakes
- 3 large carrots
- approx. 30 g dried birch leaves (you can also collect and dry them yourself)
- 2 tbsp linseed oil (alternatively sunflower oil)
Preparation:
Grind the oats into flour in your food processor. Wash the carrots and grate them into a bowl with a fine grater. Now mix all the ingredients into a non-sticky dough. This means that you can add a little grated carrot to a dough that is too crumbly, or add oat flour to a dough that is too wet until you have your perfect treat dough. If you are satisfied, let it rest for another quarter of an hour at the end.
Then always take a small amount and roll it into a ball. Place this on the baking tray lined with baking paper and flatten the ball with a fork. This is how beautiful thalers are created.
Now bake the cookies at 180 degrees for half an hour. Then another 60 minutes at a reduced temperature of 80 degrees. You can open the oven door briefly from time to time to release any accumulated moisture. The baking time should be based on the thickness of your thalers. In fact, the oat cookies really need to be completely hardened before being fed. If necessary, put it on the heater at the end.
Quick info:
The combination of carrots, linseed oil and birch leaves is great. The oil helps to dissolve the vitamins in the carrots and birch leaves are anti-inflammatory, detoxifying and sometimes even expectorant. Very interesting for osteoarthritis and asthma candidates.
Your ingredients list:
- 300 g carrots
- 6 cloves of garlic
- 100 g wheat bran
- 100 g breadcrumbs
- approx. 100 ml water
- - - Disposable gloves (so you don't get stinky fingers when kneading)
Preparation:
Grate the carrots finely and peel and chop the garlic well. Put everything in a bowl and mix. The result should be a malleable, smooth dough. Again, you can control the consistency with water or breadcrumbs so that you get a satisfactory result. Making horse treats yourself also requires a bit of sensitivity from you. Finally, form small balls and place them on the tray (+ baking paper). The "Knofi balls" are then baked at 100 degrees for approx. Baked for 35 minutes.
Quick info:
In any case, the horse treat recipe that kills mosquitoes and parasites. find.
Important: If garlic is fed in small quantities as a treatment, it can have a positive effect on your horse's health (antibacterial, digestive, appetite-stimulating and stimulating for the immune system). Too much garlic has a counterproductive effect and can even be harmful!
Last but not least, our quick recipe for the banana lovers among the horses:
The banana bars
Making horse treats yourself can also be quick.
You only need a few ingredients:
- 4 bananas
- 300 g oat flakes
Preparation:
Line the baking tray with baking paper or grease it well. Peel the bananas and mash them really well. Then mix with the oat flakes to form a smooth dough. If the dough seems too mushy, add more oat flakes. Now form small approx. 1 cm thick sticks and put them on the baking tray. Only approx. Bake for 20 - 30 minutes at 180 degrees and the bars are ready. Allow to cool well! Your hooved "monkey" is guaranteed to turn heads.
We have a birthday cake for all the birthday children!
No-bake birthday cake
Making horse cake yourself can also be quick and without baking.
You only need a few ingredients:
- 2 apples
- 2 carrots
- Wheat bran
- Oats
Preparation:
Grate 2 apples and mix with some wheat bran and oats. Place in a heart shape and place in a normal bowl. The mass should be such that it holds the shape. It's best to use beetroot for the number on the cake.
Tip: If you still have a surplus of biscuits, simply wrap them nicely and give them to your riding friend. This is really well received!
We also avoid sugar. It damages Hotti's teeth and is known not to be a big plus in the horse's metabolism. However, some fruit sweetener or honey in small amounts is ok.
Have fun feeding it - your horse will love it.