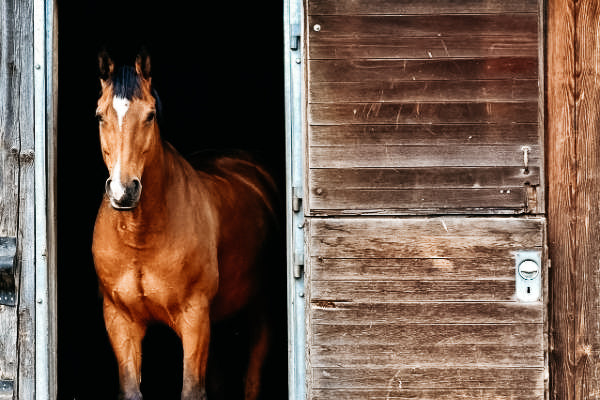 Types of keeping horses and ponies
Even before buying the new horse/pony, the question arises, where do I keep my horse/pony? Does it prefer to be in a box or is a simple pasture enough for it? There are different forms of husbandry and we will now take a closer look at these.
WWhat types of husbandry are there?
When it comes to horse keeping, there are two different types: the robust keeping and the box/indoor keeping.
Robust posture
The robust husbandry comes very close to a species-appropriate horse life of the two forms of husbandry, as the horses and ponies are kept all year round, usually in smaller groups, in an open horse stable or in a shelter with adjacent, freely accessible outlet should be kept. This means you can move around around the clock and decide for yourself whether you want to pursue your need for social contact, play with your peers, scratch each other or make yourself comfortable in the open horse stable/shelter.
[siteorigin_widget class="Simple_About_With_Image"][/siteorigin_widget]
Good, robust horse husbandry can be recognized by the following characteristics:
Horse stable should have a dry, non-slip surface
Sleeping spaces must be available,
Freely accessible horse stable/shelter must be closed on three sides,
enough hayracks or Set up feeding stations ,
Water supply and a power supply should be ensured.
There are different types of robust housing. A distinction is made here:
Open stable (open horse stable/shelter with freely accessible run)
Active stable (see Open stable, there are also functional areas and automated feeding)
Pure pasture farming (without horse stable/shelter, just a fenced pasture)
Our tip for caring for robust horses:
Horses and ponies that are kept robust form a natural protective layer of sebum in their fur. This protective layer ensures that moisture from the outside does not penetrate the skin. Excessive grooming and especially washing the horse's fur destroys this valuable layer. Of course, the saddle and girth position as well as the places where the bridle rests should be clean so that there are no pressure or chafing points. Our CareFlex harrow and our CareFlex body brush are particularly recommended for this purpose.
Box/indoor keeping
You will usually find this type of posture in more sporty riding stables. Your horse stands in an individual box and is taken to the paddock and/or pasture hour by hour during the day (possibly also at night in the hotter summer months).
A clean box and fresh, dry bedding are extremely important when keeping horses for the health and well-being of your horse. Other points that the box/indoor keeping should definitely fulfill include:
enough daylight,
lots of fresh air–ATTENTION! But no drafts,
sufficient space in the boxes,
a dry surface,
Possibility for social contactswith peers,
daily exercise on a paved paddock or pasture,
a stable aisle at least 3 m widewith a non-slip surface
safe ways to tie the horse.
There are different types of box/indoor stable housing. A distinction is made here:
Single box housing (normal box)
Paddock Box (a box with freely accessible exit to a fenced paddock)
Playpen (large box in which horses and ponies can move freely in small groups)
Our tip on caring for box horses:
Special attention should be paid to horse care here. The horses and ponies stand and lie in their box for several hours a day and all night long and often in their feces. It is very important to remove these unwanted residues from the horse's fur. Of course, this works best with our natural bristle hoof brush. She really is a true "crap stain terror". ? Furthermore, it should not be ignored that these horses and ponies can only maintain limited social contact with their peers. This means that most of the grooming is left to the rider. Therefore, thorough cleaning is very important.
There are of course advantages and disadvantages in all of the above-mentioned forms of keeping and every horse owner should decide where and how to keep their horse or pony for the benefit of the horse or pony.
Please remember: Only a horse that is kept appropriately is a happy horse!
Pferderassen
The world of horse breeds Have you ever wondered how many horse breeds there are? – Unfortunately there is no concrete answer to this either. ☹ According to current estimates there are around ...
Continue reading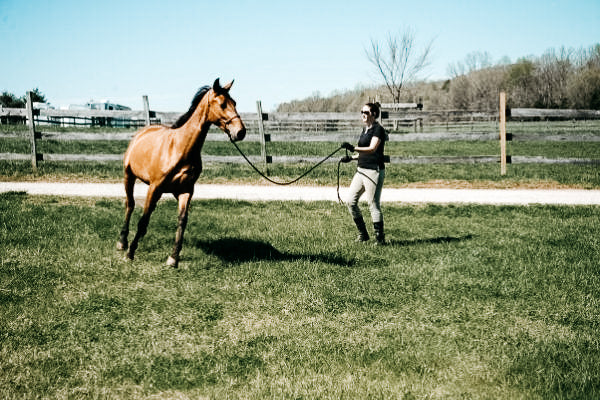 Fellpflege
Ground work - boring nonsense or varied training opportunity for horse and rider? A rumor that persists among riders: Ground work is boring. Let's take a closer look at whether there is any t...
Continue reading